Karan Johar's perfect reply after troll asks Anurag Kashyap to 'stop sleeping' with Karan: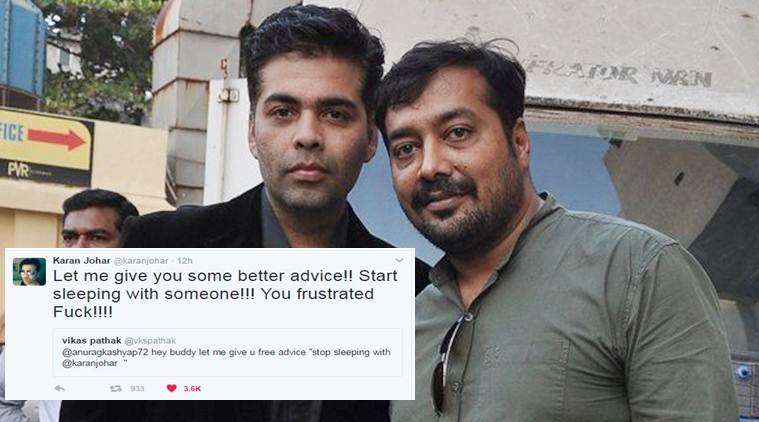 In Karan Johar and Anurag Kashyap, Sanjay Leela Bhansali found two pillars of support after the attack on the Padmavati filmmaker in Jaipur. Both Karan and Anurag were vociferous in their support of Sanjay, along with the rest of Bollywood, and demanded action.
While Karan Johar wrote, "Having been through many instances of turmoil during a film shoot or release…i understand Sanjay's emotion at this point…I stand by him… Am appalled at what has happened with Sanjay Bhansali….this is the time for all us as an industry to stand by our people and fraternity!!," Anurag tweeted, "Hindu extremists have stepped out of twitter into the real world now.. and Hindu terrorism is not a myth anymore." The tweet mentioning 'Hindu extremism' led to an immediate backlash. Among the tweets was this one, "@anuragkashyap72 hey buddy let me give u free advice "stop sleeping with @karanjohar ". But this person got a perfect reply from Karan himself.
 Karan, who has time and again been targeted for his sexual orientation, was in no mood to take it. He replied, "Let me give you some better advice!! Start sleeping with someone!!! You frustrated F*ck!!!!" Karan Johar has never explicitly come out about his sexuality. Even in his biography, An Unsuitable Boy, he drops broad hints without saying it in so many words.
Hindu extremists have stepped out of twitter into the real world now.. and Hindu terrorism is not a myth anymore

— Anurag Kashyap (@anuragkashyap72) January 27, 2017
hey buddy let me give u free advice "stop sleeping with @karanjohar "

— vikas pathak (@vkspathak) January 28, 2017